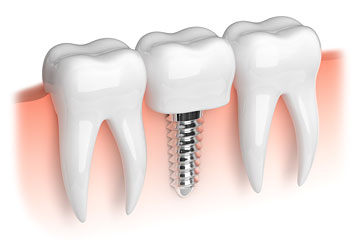 Dental Implants
A dental implant is a tiny titanium cylinder that replaces the function of a tooth root. Dental implants offer solutions for tooth replacement that look and feel like natural teeth. Dr. Bob Wilson has completed extensive training in the placement and restoration of dental implants.
Dental Implant Restorations
Dental implant restorations have advantages over other tooth replacement procedures, such as a traditional dental bridge, which requires drilling on adjacent teeth to create support for the replacement tooth. An implant is placed in the site of a missing tooth and restored with a dental crown to close a space, without disturbing other teeth.
And, because an implant is a fixed prosthesis, multiple dental implants may be preferred over a removable dental appliance for improved bite stability and confidence. Dental implants may also be used to secure a complete denture and make a life-changing difference for denture wearers.
Digital Dentistry & Dental Implants
The goal of dental implant placement is to achieve 'osseointegration', or bone growth and attachment between the jaw bone and the implant.
Aided by 3D imaging and special software planning tools, Dr. Wilson places the dental implant in a pre-selected location. Digital dental technology also assist him in making calculated measurements of the bite and jaw structures to determine required length and depth of the implant to facilitate proper healing and encourage bone growth.
Examination & Consultation
To create a convenient and comfortable experience for our patients, Dr. Bob Wilson places and restores implants in our Watkinsville dental office.
Are you interested in rebuilding your smile with dental implants?
Your new smile begins with a complete dental examination and consultation with Dr. Wilson. Contact Mobley Family Dentistry today to learn more about the benefits of dental implants.