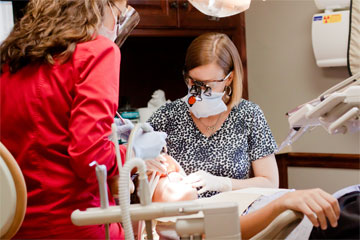 Restorative Services
Dental technologies and materials today make it possible to create lasting restorations that can bring health and beauty back to your smile. Restorative dental procedures that our family and cosmetic dentists, Dr. Mobley and Dr. Wilson provide include:
Fillings & Crowns
When tooth structure becomes damaged by decay or trauma, your dentist may recommend a filling or crown to repair the tooth and protect it from further breakage. Plastic tooth-colored filling material may be used in smaller areas, or, a ceramic or precious metal crown may be recommended if the tooth requires additional protection.
Root Canals
Tooth roots contain tiny nerves and blood vessels that can become inflamed and damaged as a result of deep decay or a facial or mouth injury. This can be a source of pain, swelling or a future tooth abscess if not treated.
During a root canal procedure, the dentist will remove the tooth 'pulp' and disinfect and seal the roots to stop the progression of the infection. After the root canal is completed, the tooth is covered with a crown to protect it from further harm.
Cosmetic Bonding & Veneers
Cosmetic dentistry can often serve a dual purpose; there are a variety of materials that may be used to improve the appearance of your smile and rebuild your bite at the same time. "White" plastic composite materials may be applied to smooth small chipped edges in front teeth, or ceramic veneers and crowns provide greater coverage options to protect tooth surfaces as well as enhance smile esthetics.
Tooth Replacement
Missing teeth can make it difficult to chew food properly or make patients feel embarrassed about their smile. Teeth also depend on each other to stay in correct alignment; a missing tooth can leave room for surrounding teeth to shift and move, which will lead to further problems over time. Our dentists recommend replacing any missing teeth that are in a functional position (wisdom teeth are the exception). Options to replace missing teeth include:
Dental bridges, partial dentures and complete dentures are lab-fabricated appliances that are designed to replace one or more missing teeth. Our dentists work closely with you and our laboratory technicians to create a custom prosthetic replacementto restore your bite and regain lost function.
Dental Implants
Dr. Wilson places dental implants in the comfort of our Watksinville dental office. These small titanium cylinders are used to replace tooth roots and serve as a foundation for a tooth replacement restoration. Dental implants may be used to replace one or more missing teeth, and are especially helpful for patients that have struggled with loose dentures. Read more about Dental Implants »