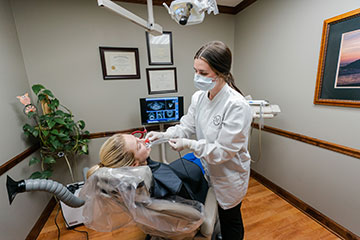 Family Dentistry
Comprehensive Range of Services
From preventive dental care, such as routine cleanings and fluoride treatments for children, to restorative and cosmetic dental services for adults, our focus is on preserving your oral health and making dentistry a comfortable experience for your family.
Preventive Dental Care
The American Dental Association® recommends visiting the dentist 2-3 times per year to help prevent dental disease and infection. Regular visits for dental cleanings, sealants and fluoride treatments help prevent tooth decay and periodontal (gum) disease.
Dental sealants are a great way to help your child avoid cavities in permanent teeth; the best part is they do not require any drilling or anesthetic! Dental sealants are hard plastic coatings painted on the chewing surfaces of teeth to help make them more resistant to decay-causing bacteria.
Diagnostics & Treatment Planning
Our dentists conduct a complete assessment of your oral health, including digital xrays and screening for oral cancer and periodontal (gum) disease. With this information, we can provide recommendations and assist you with a personalized plan to maintain your dental health.
Oral Cancer is a growing concern in the U.S. At each adult and teen dental hygiene visit, oral soft tissues will be thoroughly examined to look for any suspicious areas that may require follow-up.
Your Watkinsville-Athens Family Dentist
We have proudly served families in Watkinsville, Athens and surrounding Oconee and Clarke communities for over 35 years. If you have questions about your family's dental health or want to learn more about a service we provide, contact Mobley Family Dentistry. We can talk about your needs and schedule preventive visits to help you stay on track.